[Photos] My Birthday "Building" Week

How I Built My a Self-Love by Putting in a Crazy Amount of Time, Sweat and Money…
Industrial Shelves. Suddenly I NEED them. NOW. Much like I needed the cabinet space in the kitchen and the new light…my heart wanted it.  So, I said….

Let my Birthday Building Week COMMENCE!!!

Day #1

2 x 12″ x 16′ Select Pine lumber for cutting and staining my future shelves!
64 board feet of lumber + One Volvo already carrying almost 60 ft Black Iron Pipe + Tanya's Mad Packing Skills = Fits!
Day #2  Racing the rain to sand and Pre-Stain (prep)
Tackling the 6.5′ boards!
God heard my request and the rain WAITED for me!!! All 64 ft sanded and stained on the bottom and back edge.
Wine in fridge. Dehydration and Moscato…Yes. That works. I meant to eat one of my sweet potato brownies and forgot!
Rain held off long enough to do them ALL and then the "wet carry" ( don't ask).

Ha! Girl over matter!

Done! (with Grueling Day #2)

128 linear feet sanded, primed, dried, flipped and stained! Very grateful for unexpected rain reprieve (God giving me presents early!). If anybody likes to get high off of noxious fumes-you missed sitting in my office!
Day #3 Indoor Lacquering is a SPORT!!
It's also pipe cleaning day! I'll update that later- the best solvent in the Universe is sold at Dollar Tree!!

60 ft of CLEANED Black Steel Pipe – A Miracle courtesy of elbow grease + LA Totally Awesome Cleaner. All wood done on the BOTTOM.

Tomorrow I  begin "demolition"
Day #4
Time to prep my spaces (empty and shift 5 bookcases and remove 18 pieces of art from the walls…)

Part Two is Measuring, finding studs (don't laugh!) and boring a lot of holes in my beautiful dark wood shelves. May the Force be with Me! I declare my independence from my old look and Feel of my home today.

​​​​​​​Dream? Work through entire day to full install and lacquer!
Demo Done!!! Empty space – bare walls. (House destroyed!)
Took one break to help a friend spend $200 at Dollar Tree getting toys for an orphanage in Cuba!  —Meanwhile…back the ranch…
Real MacGuyvering underway…countering challenges as they arise – using my brain! Wrong bit size meant emergency Lowe's run… FYI- a 3/4 inch pipe requires a 1 1/8 inch spade bit. Turned my porch into "workshop" in the rain.
It is 1:23 am. I have conquered MANY untold things today and I kept going until I at least got the smaller bookcase assembled.

It is not level. It is not anchored and I am in love with it anyway! 

Tomorrow (the 6th) is my birthday and I hope to have my shelves in place for it. I'll do as much as I can. I am worth ALL of this and more!  
Love you all – hope you enjoyed the photo blog today 🙂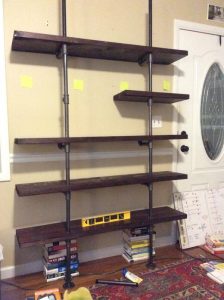 ---
​​​​​

​​​​I Show Alph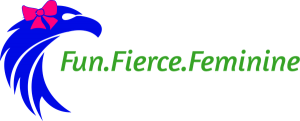 a Women Entrepreneurs How to Stop Struggling in Your Relationships, Own Your Potential, Build Your Business and BALANCE IT ALL.
---