[Abundance] Value vs. Cost – Which Measure Are YOU Using?

Value vs. Cost – Which Measure Are YOU Using?
If you take a moment and think back to the last time you asked the question – 99.7% of you asked "Hey, how much does this cost?"
I'm giving this to you as a flag to show you some beliefs that you have that aren't serving you well IF you want a life of abundance and success and self-love.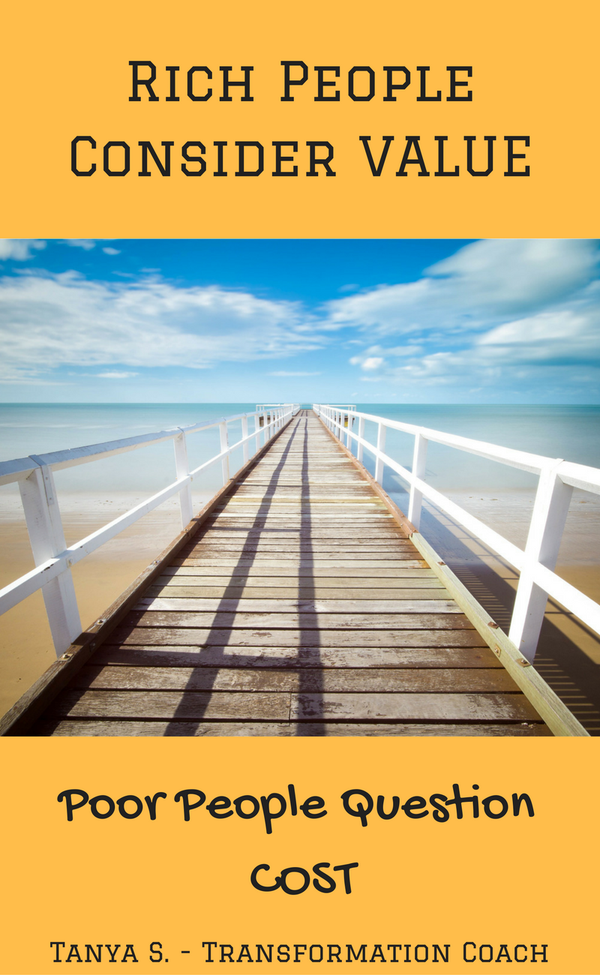 I want you to begin catching yourself the next time you ask what does this cost.  The real question is what is it WORTH to you?
Rich people look at the output to be obtained by the input to be invested. Thus, they are looking at the future and the POSITIVE. The "upside." 
Poor people look at what will they lose right now. How much money will they be "out." And the focus is more on what they are giving up than what they are gaining.
Remember, I teach that you get what you focus on. Why do you think rich people keep getting richer? It has nothing to do with the government and the way the taxes are set up! It has everything to do with what they're focusing on and expecting.
For instance, if a problem pops up, a wealthy person will focus on creating a solution. They will already be testing their first solution while a person in lack will still be complaining that the problem is not fair, too difficult or they don't know where to start.
It's an interesting issue for me, as a coach, because when people come to me they're usually in a fear-based, lack filled (that's oxymoronic!) place. That means they'll be focused on the COST of coaching, rather than the value of coaching, i.e., where they're going to end up.
It makes me sad that people would happily pay $20,000 for a new car but won't pay a fraction of that to quit smoking after smoking for 15 years, increase sales 30%, receive multiple 6 figure job offers, navigate a divorce without melt down, attract the first HEALTHY man and being able to make life changing decisions in one day.  I have provided all of these outcomes. 
What would it be WORTH to you to have all of that? Or are you wondering, what does it COST? (Less than half the car. I need to raise my prices.)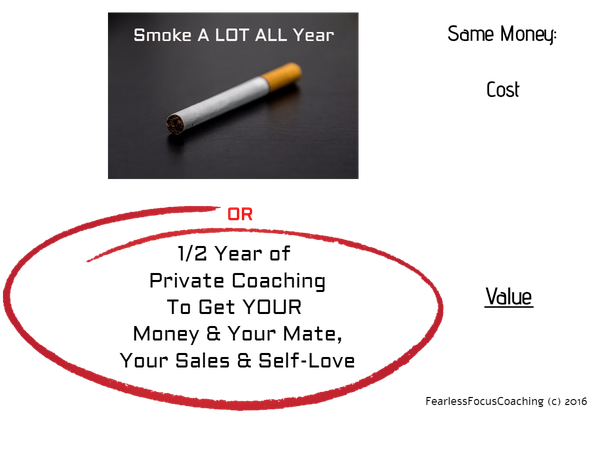 We figured that my smoker's annual cigarette habit COSTS almost half a year of
coaching! What is smoking worth versus a 1/2 year of private coaching?
In fact, here's something that will frighten you. Look at something in your life that's annoying you right now. Something that's been bothering you for a long time.
You probably haven't taken care of it because it costs X. Whatever it is. $300 for a car window the rolls all the way up. $2500 for braces so you stop hating your teeth. $75 for the plumber for that damn drip under the sink.
That means… your happiness is worth LESS than $75 to you.
I have a desk that I want to sell, that's been leaning in my hallway, in my way for a couple weeks now. The desk is not worth my happiness and it's making me unhappy blocking my hallway.  I tried selling it at its fair market value and that hasn't worked.Now I'm going to price it at some ridiculous amount just to get it out of my hallway (not free, people don't value free things and won't show up!).  It's real value doesn't matter. I have a HIGHER value on my happiness (and being able to walk down the hallway in the dark!).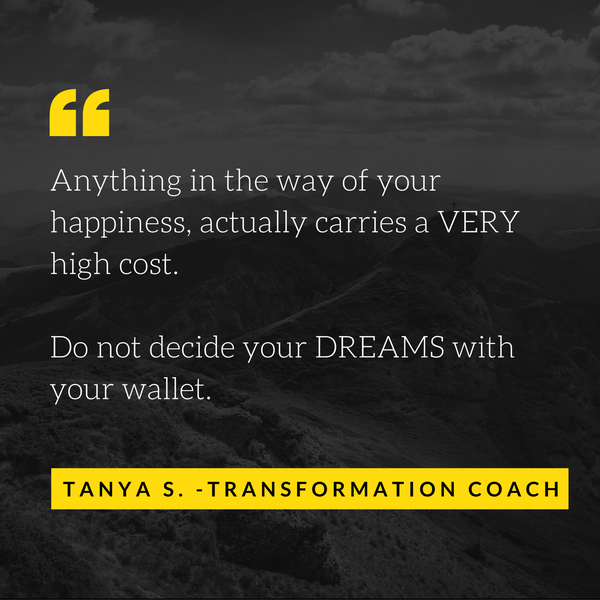 When you look at the outcome – clear hallway, happy coach- it is easy to see that I need to get rid of the desk regardless of the apparent "loss."
When you look at the "cost" – it seems like I should re-post it somewhere else and wait a little longer and maybe take a few more pictures because I'm losing that $80. 
Changing your viewpoint from looking at the COST to looking at the VALUE will change your life and what shows up in it.
Do you have the ability to 
make decisions based on VALUE? Do you keep telling yourself "I'll work with Tanya someday when I have the money…" Stop it.
What is YOUR HAPPINESS WORTH RIGHT NOW? Yes, I'm talking to YOU. Talk to me.
And review this post – Opportunities Don't SELL Themselves to YOU, YouSELL
(There is 1 Opportunity below in the P.S.)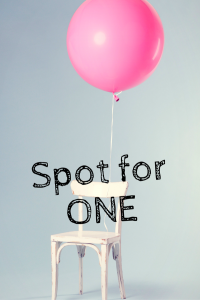 P.S.               One Time Offer
I have a SINGLE opening for someone wanting to coach at half price.
I have a single mom here in Georgia (just hours from me!) on food stamps, that hasn't worked in a year. 2 days after we talked she got a job (that happens a lot). She was heartbroken that it doesn't pay enough to cover private coaching. I was so impressed, I told her I'd find a person to split a coaching agreement with her. The first person I picked is not moving fast enough.
If you want semi-private coaching to change your life for the next year – hit reply and tell me why you should share that spot. You'll share 2 hours of monthly coaching with me, plus email support.  (I am a coach of Massive Action and if you aren't ready to take Massive Action to get your Massive Value, we aren't a good fit.)  
---

​​​​​​​​​​​​I show those READY for Better & WILLING to take Massive Action How to Transform their Lives from Messes to Miracles, Overflowing in Loving Relationships, Vibrant Health, Visible Wealth & Perfect Self-Expression.
Get Off Your Own Brakes.
---
[Abundance] Value vs. Cost – Which Measure Are YOU Using?



Powered by AWeber Email Marketing