[Webinar REPLAY] Decision Making – How to Make 'Em & Feel CONFIDENT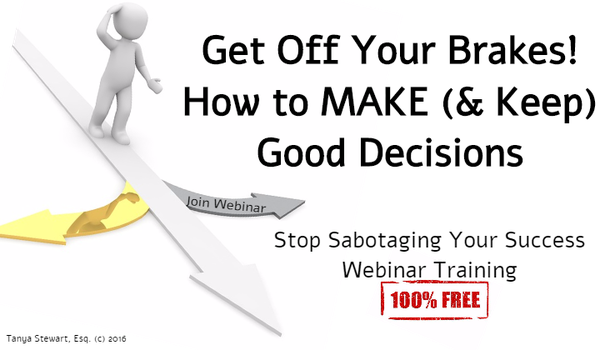 Ready to Break Through & Speed Up Your Goals?
You need to know how to make a decision – quickly, confidently, without struggle and not needing everyone else's advice.
I discovered there are only 4 Steps to Making a Decision.
I will teach you the 4 Steps and more importantly – the BLOCKS to those 4 Steps that are keeping you from feeling secure when you decide something.
Learn Why You Can't Make (& Keep) Good Decisions Consistently

What it COSTS you to be indecisive (it is WAY more than you know!)

Where to Begin when You Don't Know HOW to Make a Hard Decision

Why You Feel Insecure, Confused or Overwhelmed when Deciding…and How to STOP
By the end of the training, you will have my step by step process to make ANY decision with more confidence. I use it ALL the time.
I am excited to give this to you. Share it with your friends.
Make a commitment to invest in this training for YOUR better life right now.
Watch the How to Make (& Keep) Good Decisions Webinar 
Watch it NOW. Replay ENDS Tuesday 6/7 at noon (EST)
I gave some extra watching time because I really want you to learn and let me know your a-ha moments!
In Joy,

P.S. It's Decision Making Webinar Replay Weekend! Learn the other 3 Steps to the Decision Making Process after Commitment and How to Make (and KEEP) a Good Decision! You can feel more confident.
P.P.S. Those that watched live said it was: "eloquent, powerful, useful, simple and clear." They started USING the tools the same night! Are you ready?
---

​​​​​​​I show Conscious Creators How to STOP Struggling and Apply the Spiritual Laws You Already Know So Your Life Reflects Your Purpose
​​​​​Get Off Your Own Brakes. 
Identify. Manage. Reduce Fears.
---
How to Make (& Keep) Good Decisions Webinar REPLAY





Powered by AWeber Email Marketing