[Surprise] I'm Leaving the Country Sale! (Pics)

Leaving AND Doing Something Different for YOU…​
Thanksgiving was yesterday. See my crock pot turkey pics below! I'll also make my famous turkey again for Christmas, as my mate has NEVER eaten Turkey!!
I am not a fan of Black Friday Sale/s because of the push energy with it is a bit crazy! I am doing something waaay different! I'm going to let YOU tell me what you want AND what you'll pay. Why?
I am throwing myself a MOVING FROM THE US Sale! 
I am going on the travel adventure of a lifetime and leaving the US for the entire next YEAR! Surprise! Yep, I am moving! Liquidating my house, selling my stuff and everything in between! Australia, New Zealand, Philippines, Bali and Asia here I come.
Why is this good news for YOU…??

---
Tanya's Generic Coaching Offer
This Generic Coaching Offer is the ONLY opportunity for YOU to tell me what your struggle/s are and OFFER me a price to get customized help. I'm going to put together packages that will solve or improve whatever you write me  about!
Here's How it Works:
1) You tell me who you are (name, email, contact), 
2) Tell me what your struggles are and
3) YOU make me an OFFER to pay for your help
(just type in your amount in USD from $10-$9,000+) 
4) Give me that info here: What I Need Fixed & What I'll Invest , it's that easy!
I will help you the best I can! Of course, the higher offers get the best of the best, including private coaching and even custom hypnotherapy recordings for you to use forever.
You want to break the damn piggy bank for this. Trust me. You can put an extra $200 under the tree (so the kids feel happier for another 46 mins) OR you can figure out what's ruining your marriage…
Been reading me for years and never raised your hand? Go for it now.
New readers, old readers, current and former clients – all welcome 🙂
So are you ready? I am excited to see what you need and help you! Click the blue button and ASK FOR WHAT YOU NEED, PAY WHAT YOU CHOOSE.
Expires 5 days – 7 am Tuesday EST November 27th OR sooner if I get too many. The sooner you ask the better the bite of apple you get! Money can buy solutions and speed. Use yours for you now.
 You can also GIFT my help to a friend. 
This is a way better gift than another shower gel (giving my extras to the homeless). You don't have to describe what she needs, just her contact info and we'll send you a gift certificate set up in your amount. 🙂
 I WANT TO MAKE AN OFFER! 
In Joy,

---
P.S  What if my problem is super hard and I only have $57? Ask anyway. I'll be putting together combos of my material & me. I'll reply and tell you what you'd get before you send your money.
On the lowest end of the scale is DIY. Higher up comes with personal advice and higher still, I'll personally help solve your problems.
I am also offering ONE "All You CAN Eat" Fix Any Mess R.E.S.E.T. Coaching Package – normally $3,000/mo for 6 months at half off $18,000 – $9,000 with Coaching Guarantee. Ask to apply for it, if you want it. Use it save a marriage, end a marriage or get married…go on. Pick something hard. You decide.
Pictures: What your info form looks like –  Beach time from last weekend! Couple of Alphas having fun – Crock Pot Turkey Perfection!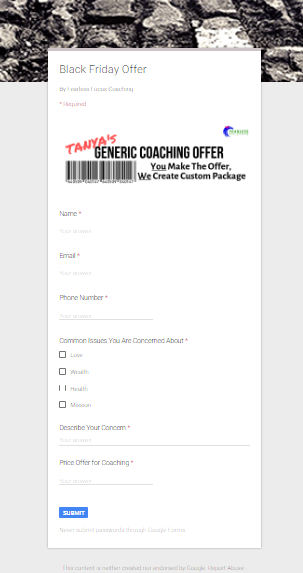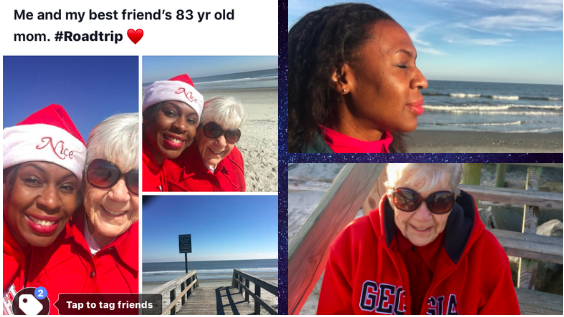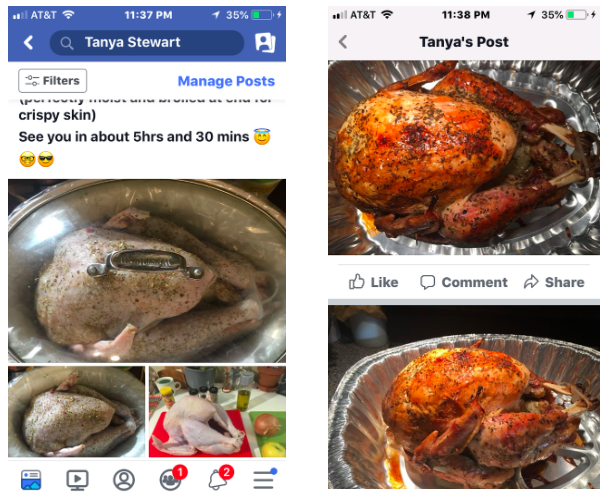 Tanya Stewart is "The Alpha Woman Coach" and began coaching strong women as a Divorce lawyer in her own high conflict law firm 20 years ago. She understands how Alpha women are wired and using her Master's level Metaphysics background and Advanced Clinical Certification in Hypnotherapy, she brings rapid change to people she works with. 
She is a speaker, published author and Mensa member whose coaching is recommended by the World-Famous Motivator, Les Brown, Best-Selling Love Coach Greg Baer and International Change Expert, Dr. Eldon Taylor. She can teach you to separate struggle from success. 
ALL My videos are always on my Vimeo channel HERE 
Find Even More on the Resources page of the website: 
www.FearlessFocusCoaching.com/Resources